New Opening Hours
Hey guys! Due to your increasing appetite for our Filipino House Specials, we've decided to close on Tuesdays so that our kitchen can cook up a storm and prep to satisfy those cravings.
Please note our updated opening days and hours.
Monday – 7am – 4pm
Tuesday – Closed
Wednesday – 7am – 4pm
Thursday – 7am – 4pm
Friday – 7am – 9pm
Saturday – 8am – 9pm
Sunday – 8am – 4pm
Our Cafe
Craving for a good Sisig, Adobo, or a Filipino Breakfast 'Silog? You've come to the right place!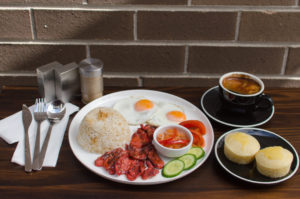 We are a Filipino Cafe located in Glebe, serving great Filipino food that will have you coming back for more! Our casual atmosphere will surely make you feel welcome and offer a great place to meet up with friends and family.